Gaining Strength — One Tough Workplace Lesson at a Time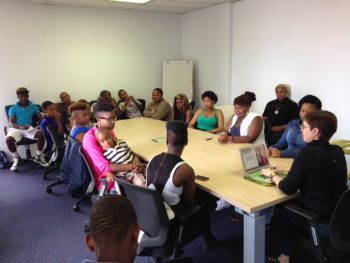 "Now I am a soldier." 
This is how Koketso describes "one of the good things" that came out of a very bad work experience.  I saw Koketso a little more than six months ago, just before she began her first full-time job.  She was excited and very proud that her hard work as a free-lancer had led her to this milestone moment.
At that time, I was proud of her persistence over the course of these early years and the resilience that allowed her to persevere through the rejections and dry spells.  Despite the challenges, she was supporting herself and creating a future she couldn't imagine when her father died and left her alone as a pre-teen.
Listening to her share her story today with 17 other Infinite Family Net Blazers (mentoring alumna who are now blazing their own paths), I was surprised to hear her say that she is thankful the contract finally ended.  Unlike previous projects where she felt the team worked well together in pursuit of a united goal, members of this group thrived on negativity, manipulation and control.   As a result, she said the six-month contract felt like an eternity.   Koketso loves to work, but hated going to work.
She went anyway: one day at a time, one foot in front of the other, until the job was done.  Despite daily stabs at her self-confidence, having her work sabotaged and feeling betrayed, she fought on and finished the contract.  Just one week later, she acknowledges the many lessons she learned in this grueling ordeal:  how to "watch her back," how to pick herself up each day to run the gauntlet again, and "what kind of people to look out for in the future."
Koketso refuses to be a victim.  She knows that no one owes her a nurturing environment or a successful future.  She knows that she alone will determine how she fares in life's treacherous waters – and she is determined to swim.  The battle scars she earned in this experience are healing to become one more piece of the mental armor that will protect her as she strives for success in the future.
In early 2013, Koketso told me that her mentor (who lived 6,000 miles away) taught her "to believe in what I want to do and to keep doing it and not give up."  Like a soldier with her mission clearly in focus, she won't.