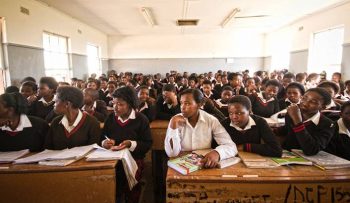 The futures and economic stability of South Africa's 12th graders will be decided by early December.
They are one week into taking their matric exams, which will determine what job and career opportunities are available to them, for the rest of their lives. Our Net Buddies have been studying hard and I could not be more proud.
"When I was your age," we joke with our children, "I walked miles and miles to school, uphill, both ways." South African students really know something about tough learning conditions:
Some classes are so overcrowded that 100 students or more are trying to hear their teacher – asking questions is out of the question.
Almost half of the 24,000 public schools still only have pit toilets and, if they are lucky, a single spigot for hand washing.
Just 10 days ago, a confidential report by the Limpopo department of education revealed that beans meant for lunches at numerous schools were found to contain stones and glass causing children to vomit blood.
Not to mention how hard it is for our Net Buddies to study at night, without electricity.
Imagine facing these conditions with little or no support, with no role models to show a way to create a different future, a future where your children will not face the same barriers and crushed dreams. Where do these students find the resilience to continue at all?
Many don't: Half of South Africa's teens drop out of school before 12th grade.
Infinite Family's mentors help teens at risk of dropping out get back on track. Their mentors encourage them, they push them, they show them that success requires hard work. And in sharing their own stories, their lives prove there are better options than to quit.
"Sheila taught me that when you see an obstacle, you mustn't let it stop you. You must see a way around your obstacle. That has helped me a lot, especially in passing my matric and in going to college." (Mbali, Johannesburg, February 2013)
Help a teen like Mbali to quit quitting. Join our mentoring movement now and 2015 will be your year to change a Net Buddy's world.