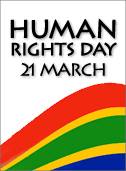 I couldn't imagine a more fitting way to introduce Infinite Family's new blog than with the powerful words and imagery of our Net Buddy mentees.

I am very proud to present the work of our award-winning Net Buddy poets from Tsogang Sechaba, Tau Rapulana and Nkosi's Haven. Their poems on the theme of South Africa's Human Rights Day poignantly express the legacy of that struggle and its enduring significance in the hearts and minds of South Africa's youth.
First Place Award
South Africa Human Rights Day, by Sabelo Khumalo
Age 12, Tsogang Secheba
---
South African Human Rights Day
By Sabelo Khumalo
A day when people rise up in spite of shame
As we cried, our tears were a sign of the freedom we gained
Though at the beginning, we were treated in a mean way
We even went to crush rocks that held the freedom we gained
We were kicked, shoved, pushed for the color of our skin
We were made to use dirty toilets, oh what a shame
Like we had some type of disease
Sharpville 1960, as our youth assembled for the freedom we gained
Streets filled with the blood of fighters with strength
At last the rocks were crushed, the wounds were healed, and
The tears were now tears of joy
As we danced, our spirit was regained by the sunshine that lighted in our eyes
---
Second Place Award
Human Rights, Human Rights, by Agnes Mokoena
Age 12, Tsogang Secheba
Human Rights, Human Rights
By Agnes Mokoena
Human rights, human rights
Our rights we fight for
Nation of South Africa, wake up
Stars and moon past by night
The sun is shining bright in the sky
We must remember people
People who chose to go and fight
Fight for our rights on the union building
We have rights for children and adults
South Africa beautiful country
We are free
Yet violence is everywhere
Made by adults
Caused by alcohol abuse
And drug abuse
Prisoners are we all
Innocent
Rape and abuse are taking place
Wake up Africa, wake up
---
Third Place Award
Trajectory in the Streets, by Mmota Nthabeleng
Age 17, Tau Rapulana High School
Trajectory in the Streets
By Mmota Nthabeleng
Mistaken religions,
unlucky positions.
You may be spoiling
Someone's horizon,
trajectory in the
streets of a certain
It's better that your
execution is extrajudicial
rather than intrajudicial.
At least you don't have
to wait for the date,
and satisfy the spectators.
As if an ending could
ever be a star.
---
Honorary Mention
My Country, by Mpendula Sindane
Age 11, Nkosi's Haven Village
My Country
by Mpendula Sindane
I am a young black boy, and my future lies in my country,
South Africa.
I know some days will be hard for me, but I hope for a good life in my country,
South Africa.
I will be a businessman and a soccer player, and be good at what I do in my country,
South Africa.
I will become a successful black African man in my homeland,
South Africa.