Become a Sustaining Net Buddy Sponsor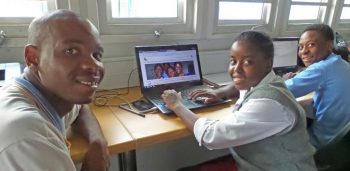 Infinite Family's Video Mentors are usually part of their Net Buddy mentees' lives for two to five years – together they navigate each student's turbulent teen years. Keeping them connected requires real-time technology and mentorship support, ongoing training, and access to an ever widening range of information resources and skills development curricula to give our teens the best shot at school and life success.
As a Sustaining Net Buddy Sponsor, your monthly, quarterly or annual recurring gift makes it possible for our students to always have access to a computer, the Internet and their Video Mentor.
100% of Sustaining Net Buddy Sponsor donations directly fund life-changing mentoring relationships and our Net Buddies' work to become self-reliant adults.
Join Infinite Family as a Sustaining Net Buddy Sponsor now and enjoy:
• Automatic donations from your credit card in any amount you choose.
• The knowledge that your donation is put to work immediately.
• Regular newsletters on our Net Buddies' progress.
• Combined annual tax deduction statements for tax purposes at the end of each year.
• The ability to change your donation at any time.
You may also make a donation using PayPal ->
Thank you for strengthening our Net Buddies!