Covid-19 isn't Our Teens' Only Crisis
Covid-19 has changed everything, for everyone, everywhere.
In South Africa, which has been under strict lockdown for two months, even the basic nutrition our Net Buddies rely on is missing.
Like students around the world, they need their daily school meals to grow and to learn. For many of them, it's the only meal of the day they can depend on. So, when schools shut down on March 23, things got really tough, really fast.
This is a very hard ask to make, when we're all facing our own pressures. But now our Net Buddies tell us their situations are impossible and they need us to step up our support in the form of food parcels.
It's a devastating call for help but, thanks to our partnership with one of South Africa's major food retailer, Infinite Family is now able to provide them with the most basic necessities until alternative resources are available.
We know Covid-19 is placing incredible burdens on everyone. Getting through this pandemic is going to take all of us … and you'd be so proud of these young people. Despite their adversity, they are uncommonly strong and resilient. With the help of our community of Video Mentors and Donors, they're still working hard to build themselves a brighter future. We know you will agree that they deserve every chance to make it happen.
$3 feeds a family of 5 for 1 day.
$30 makes sure they will eat for two weeks.
$60 provides food security for a whole month.

If you are able to help with a donation of any size, we can promise it will make a life-changing difference to one of our Net Buddies.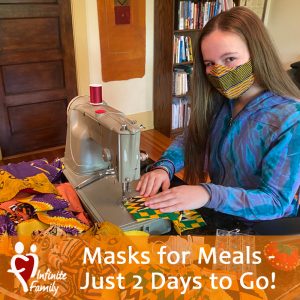 And, to say a small thank you, every Friend of the Family who sponsors a $60 full month food parcel will receive a (non-medical grade) mask made with love by Adia Stokes, the 13-year old daughter of Infinite Family's founder, Amy. All in vibrant African fabrics, they'll make sure you stand out in the grocery line and serve as a great reminder of the children your kindness is helping to protect.
Support our Net Buddies
Complete the form below to give a donation today!