Director's December Double Match

While we all take a few weeks to celebrate this year, we know that next year, all of our Net Buddies will still be fighting an uphill battle to study because power outages (called "loadshedding" in South Africa) darken homes, schools and businesses, even road and traffic lights, up to nine hours every day. African teens depend on our LaunchPad computer labs (with backup power systems) to continue their studies in high school and beyond.
To help Infinite Family start 2023 ready to support our Net Buddies with all of their technology and skills development needs, Infinite Family Director Kevin Travis will amplify all first-time and extra gifts with a $1 for $1/R10 for R10 match during this Festive Season:
$5 becomes $10,
R10 becomes R20,
$25 becomes $50,
R100 will be doubled to R200 and on and on!
No amount is too big or too small. You may even choose to automatically split your gift into small monthly or quarterly payments – he will match the first full year of your gifts!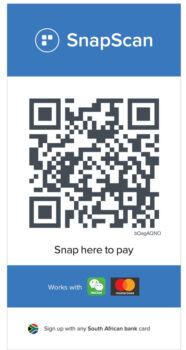 Here's how your gift can help African teens succeed:
$2,000 or R30,000    Sponsor 1 year of college courses
$600 or R9000           Buy a new laptop to be used by hundreds of teens
$300 or R4500           Train 20 Net Buddies in digital literacy
$125 or R1875              Tutor 100 teens weekly for a month
$65 or R1000               Provide access to a computer, internet, and Mentor
$10 or R200                 Pay a college application fee
Or be a Sustaining Sponsor via small monthly gifts:
$5 or R75/month         Sponsor a month of internet access
$10 or R150/month    Keep a LaunchPad learning zone clean and safe
$25 or R375/month    Tutor 20 teens each week
Every gift of any size makes a difference. Thank you for your support today!
Start here to make your gift via credit card or PayPal.