"Lucky is His Name and How He Feels"
Lucky's life in Gauteng, South Africa was never easy. His father passed away when he was just 9 years old and his mother, who had never worked before, had to find a job as a domestic worker. There was never enough to cover all of the household expenses and they had to get a government child welfare grant just to put food on the table.
With home life being so uncertain, Lucky often had trouble focusing in school. In the 11th grade he dropped out – just before the country's matriculation exam (a mandatory exam, with certain minimum conditions that need to be met, for tertiary education).
His original plan to go to college and earn a degree started to fade away.  Feelings of inadequacy and depression started to creep in. The only positive thing he had to hold on to at this time was his connection to Infinite Family and his relationship with his Video Mentor. Lucky's Video Mentor, Betsy, encouraged him to think about his life and what he wanted in the future. No matter how tough things became, Lucky never felt totally alone. He knew his Video Mentor cared about and supported him.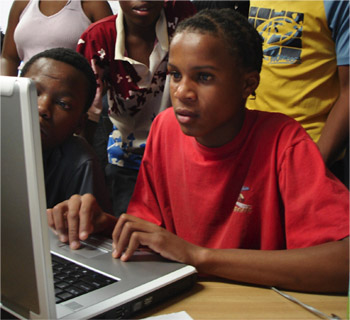 Lucky has always been an entrepreneurial young man at heart. With the encouragement he received from his Video Mentor, he eventually landed a learnership (ie. internship) at BMW, got a job doing part time modeling and has rejoined Infinite Family to work as an Administrator in Monitoring and Evaluation. He is proud to say he is also learning a little computer programming now too!
Lucky's short-term plan is to build his modeling portfolio and to develop his musical talents – a life long interest and passion. His long-term goal is to own a small business. He knows this goal will be full of challenges.  But he believes that if he keeps working hard, taking life one step at a time, and sticks to his plan, he will be able to fulfill his dream some day.
Lucky feels like he truly has been lucky in life to find Infinite Family and his Video Mentor. From the bottom of his heart, he says, 'thank you' to everyone who has supported him and Infinite Family's mentorships in South Africa.