Conversation with Dingani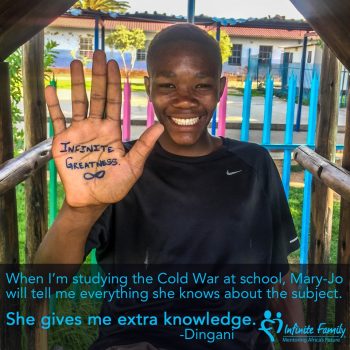 Dingani, now 19, and living in a group home on the outskirts of Johannesburg, wasn't expecting much when he became a Net Buddy 8 years ago.
"I didn't really see the point of it," he admits. Then his Video Conversations with Mary-Jo started and his perspective shifted. "You get to talk to a person on the other side of the world who sees things differently, and share your different worlds."
But it wasn't until Dingani lost his mother in 2011 that he truly saw the value in having a mentor. "When my mother passed, my mentor was there to comfort me," says Dingani, who was 12 at the time. "She helped me not to focus on the negative by showing me the positives in life."
Those positives include a keen interest in politics—"We talk about Zuma and Ramaphosa. When I'm studying the Cold War at school, Mary-Jo will tell me everything she knows about the subject. She gives me extra knowledge." So much so that Dingani is planning on going to university to study law.
"I'm in grade 12 now, and I want to be an attorney," he says, with quiet pride. "That, or go into politics."