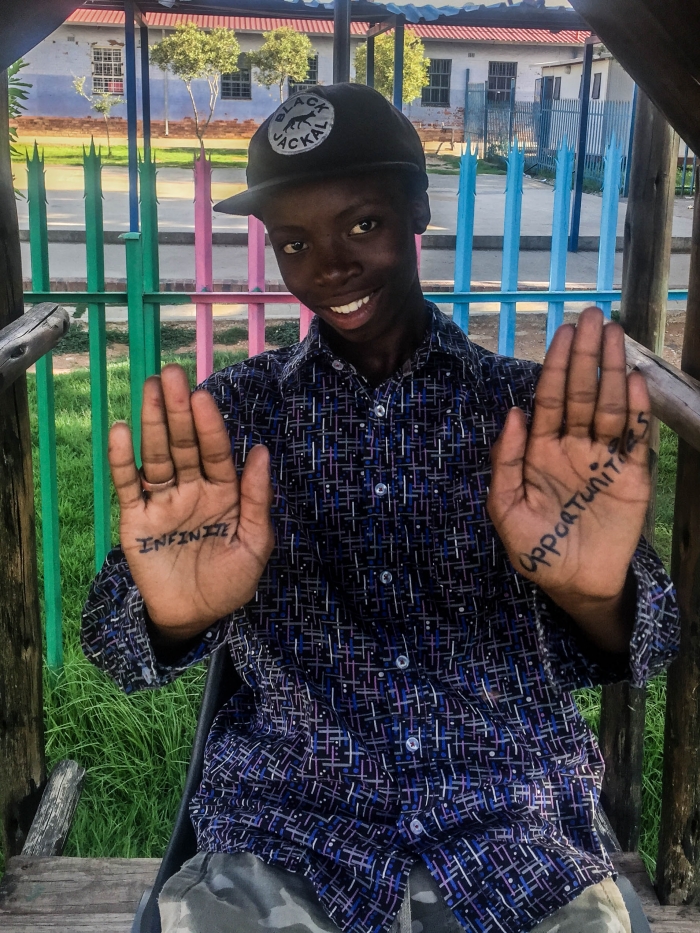 For Colin, a 16-year-old who lives in a village in the Mpumalanga province, the idea of talking to a Video Mentor across the world felt intimidating.
"It was scary because I had no idea of the kind of person she would be. But when I did meet Nina, it was," he says, "a dream came true."
Colin wasn't always a boy who would speak about his dreams. Before he met his Video Mentor, he says he would never have had the courage to stand in front of a crowd to speak. "But Nina gave me advice on how to do it—instead of meeting people's eyes, which gives me the heebie-jeebies, I look at their foreheads so I'm not nervous. Recently, I stood in front of my entire school and delivered a prayer," he says.
Nina also helps Colin with his schoolwork, getting down and dirty with exponents and algebraic functions. "It's pretty difficult, but since we started our Video Conversations, my performance has been improving." They also talk about their mutual love of travel, and teach each other. "I tell her about places to see in South Africa like Table Mountain, Gold Reef City, and Cape town," says Colin. For her part, Nina, who is Canadian, is teaching Colin French. "I've always wanted to learn, and now I can speak a little," he says.
Since becoming an Infinite Family Net Buddy, Colin's world has gotten larger, and the possibilities feel endless. "My favorite subjects are life and physical science," Colin says. "Eventually, I want to become a scientist and be the first person to find a cure for AIDs."