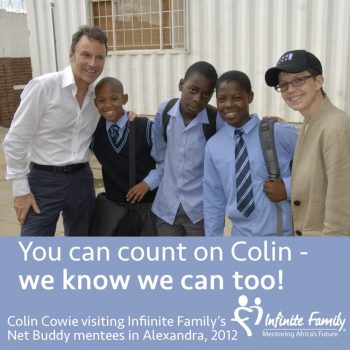 Colin Cowie is a master at creating events that make people feel special and valued. What most people don't see is how he does this behind the scenes for so many others, especially teens striving against the most difficult conditions in South Africa. Colin works magic daily for his friends and clients – and still has energy and ideas to generously support several South African non-profits. Infinite Family is proud to be one of his chosen charities.
Colin visited Infinite Family's Net Buddy mentees living in Alexandra Township in 2012.  He promised to support them and our students at all of our future sites – and Colin keeps his promises.  Many times throughout the years Colin has quietly reached out to new donors and sponsors on our behalf.  Not quite a year ago he even took time from his holiday vacation to visit our Cape Town LaunchPad.  (Great thanks to everyone at Velokhaya and Pick n Pay who helped make this possible!)
Always shining the light on others, always supportive without seeking recognition or fanfare for himself, this is the real Colin Cowie.
Thank you very much Colin for all the gifts you share and for constantly working to do more.