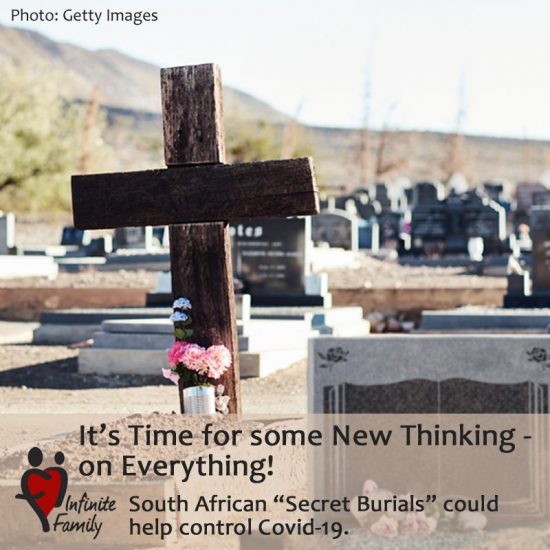 Dear Net Buddies & Blazers,
After Covid-19, life is unlikely to be the same again and there are some things we don't want to go back to 'normal' (like gender-based violence or global warming) but it's still unnerving to think about some of the changes we're going to have to make in a post-pandemic world.
One of the hardest – that's already happening – is the way we say goodbye to those who die. Being unable to hold proper funerals is deeply painful, yet the health risks for mourners are so great that traditional leaders realize we need to adapt urgently and find new ways to pay our respects to our loved ones.
It's not easy giving up our comforting rituals but we have no choice and the BBC article Coronavirus: How Secret Burials' in South Africa Could Help Tackle Covid-19 explores one alternative called 'a secret burial'. It's a strange and controversial concept yet, if you think about it, it's also a pretty smart solution to an almost impossible problem! But it's not just our elders who have to think differently to solve today's pressing problems. It's all of us.
One of South Africans' best attributes is our natural, deeply embedded resilience. Another is the way we look out for each other and make sure no-one gets left behind. (President Ramaphosa even mentioned it in his last Address to the Nation.) Covid-19 is one more opportunity for South Africans to show what we're made of.
So, start thinking about changes you may need to make in your life, and community, and don't be afraid to think outside the box.  Our brave new world is going to need agile, innovative thinking (and action!) and that won't be easy … but nothing worthwhile ever is.