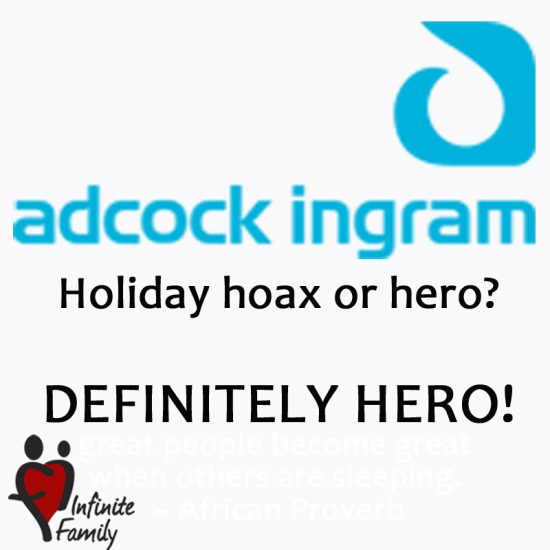 Early this month, our CEO, Amy Stokes, received a suspicious email:
Dear Amy, I trust this finds you well! We are the Advertising and Marketing Agency for Adcock Ingram Consumer. We have been requested to contact you to obtain the deserving nominated Charity's banking details so that we can make the R15000 donation please.
Since Amy had not applied for an Adcock Ingram grant, surely this was a hoax, right? Wrong! Before replying, Amy called the number in the email signature and sure enough, the email sender answered promptly and knew exactly who she was. A few days later, a legitimate grant appeared in Infinite Family's bank account. But how did Adcock Ingram know about Infinite Family? They were unfamiliar to us but not to their partner, wait for it… Pick n Pay, again playing the holiday miracle worker, suggested Infinite Family for inclusion in this holiday support campaign!
Thank you very much Adcock Ingram and Pick n Pay.  Rest assured that this gift will go directly to improving the skills development resources available to teens in Khayelitsha, Alexandra and Soweto when they return from their holidays in January. You gift amplifies their work to build a better future. We are all deeply grateful for your support and investment in our Net Buddies.