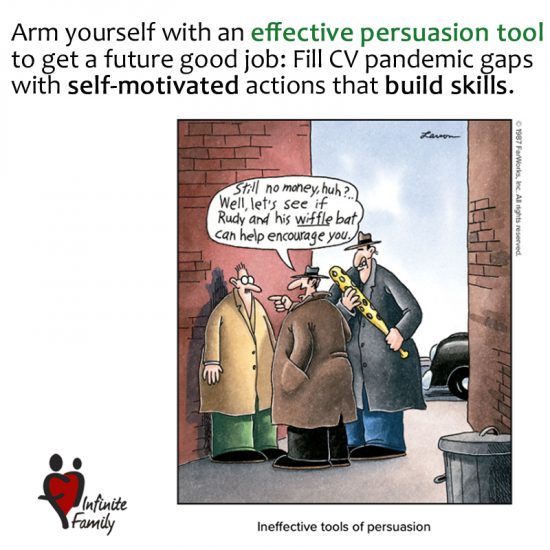 Dear Net Buddies and Blazers,
Just as the victim in this cartoon probably won't waste time worrying about being "encouraged" by Rudy's wiffle bat – made of plastic, full of holes and able to administer bruises, but not broken bones – future employers won't waste time on resumes or CVs with large gaps without advancement actions. Don't let your resume or CV be an "Ineffective tool of persuasion" by idling during the pandemic. Keep building skills consistently, purposefully and in a way you can prove. Infinite Family and your Video Mentors are here to help you.
Net Buddies,
Have you ever seen or used a wiffle bat?
Why is a wiffle bat an "Ineffective tool of persuasion"?
Do you agree that your CV is an important tool of persuasion? Why?
You know what to do – write those thoughts down and make sure the IF Team records them to help make your CV a stronger tool to help you get that good job!