Be Like Dr. Musa Manzi – Don't Let Anything Get in the Way of Your Dreams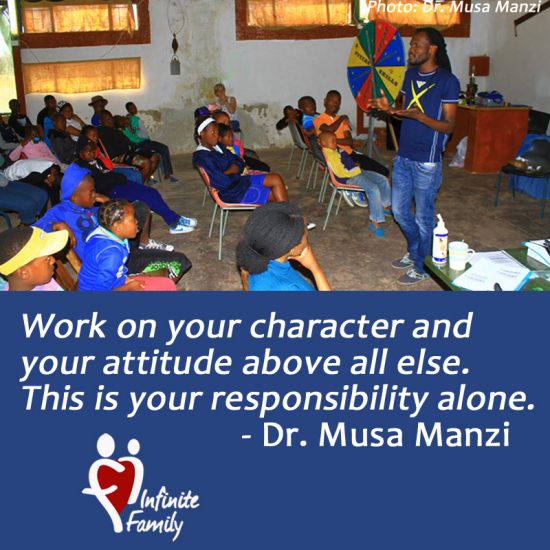 Dear Net Buddies & Blazers,
Thanks to Covid-19, everything feels messed up, right?   But Dr. Musa Manzi is here to tell you that – no matter how bleak things seem – what's going on now doesn't dictate your future and, if anyone should know, it's him.
Musa grew up in a poor, rural village in KZN and his troubles began early. He was just two years old when his father died, leaving his mother, Jabulile, to bring up six small kids alone on her wages as a domestic worker. And not only was money tight, but Musa had a hard time at school.  He was bullied for being darker than the other kids and he kept dropping out (but because his teachers realized he was unusually talented in Mathematics and Music they kept finding him and bringing him back)!
His mother always told him education was the pathway out of poverty and when she said "I brought you into the world, but I am not responsible for what you become. Uzifundela wena. You are studying for yourself," her words stuck. So, when all of his siblings gave up school and ended up taking low paying jobs to survive, Musa was motivated to stay on.
In Grade 9, he realized he wanted to become a Doctor of Science, and Zodwa Ngcobo, a nurse who went to his church and lived nearby, offered to look after him and pay for his studies through to Matric.  He was blown away.
Not only did her generosity mean he could apply his mind to his own studies but, when he and his classmates found themselves without a Mathematics and Physical Science teacher, he taught them all.  (And in his final Matric exams, he was the first KZN learner EVER to achieve 100% for Maths and 98% for Physical Science!)
With those results, he borrowed R100 for a bus ticket to Jozi so he could go to Wits University and study for a BSc.  Just one small hitch … no-one had ever told him he needed to apply for a place.
Amazingly, in another, game-changing moment for Musa, a clerk in the Admin office took the trouble to listen to his story and helped him make a late application and his excellent Matric results got him accepted for a BSc in Maths, Physics & Computer Science.
Musa loved the academic life and worked hard but finances were always a struggle so he got a part-time job as a supermarket security guard.  Then, just as his final exams were approaching, his Mom and sister got sick and died within a day of each other, and weeks  later, his brother was shot and killed by a friend.
It was a devastating time during which Musa found himself organizing three funerals in the space of one month and, instead of finishing off his much-prized BSc degree, he was admitted to Johannesburg Hospital with severe anxiety and depression.
When he was discharged, Musa went straight to KZN to fetch his sister's two young orphaned daughters and brought them back to Jozi so he could finish his studies.  For two years they lived rough until the day a fellow student, Celeste, took them home for a meal and her parents, Ed and Rose Thomas, invited them to stay and join their family full time.
Thanks to their kindness and support, he was able to focus on his academics again and, after graduating with his BSc, he went on complete an Honours degree in Geophysics.
That proved to be the beginning of a life-long passion for the subject and mining company, Goldfields, was so impressed with his knowledge that he earned a coveted place on their groundbreaking 3D seismic data project.
In 2009, Musa reregistered at Wits, for an MSc in Geophysics.  In 2010, he was invited to convert his MSc to a PhD and, in 2013, he became Dr. Manzi – the first black South African ever to earn a doctorate in Geophysics!
Fast-forward to today, and, as an Associate Professor at the Wits School of GeoSciences, Dr. Manzi is now Prof. Manzi.
He is also a visiting Scholar at Uppsala University in Sweden; a director of the Wits Seismic Research Centre; co-founder of the Wits Mathematics Competition; a published author of many papers in the world's most reputable science journals; and has won a host of local and international awards for his valuable work on 3D seismic reflection techniques.
Musa has come a long way … but he's never forgotten his roots and in his 'spare' time, he works with township schools to help young people enhance their understanding of science and teaches maths and physical science.
Phew!  What an inspirational guy!  Musa is the first to admit there have been many, many times when he's felt overwhelmed by the enormity of the challenges in his path.   But even when the obstacles stacked up, and he couldn't figure out how to get ahead, he kept on taking one step forward at a time.  (And, importantly, when help came his way, he took it.)
You can do the same, Net Buddies.  Every road you'll travel will have its obstacles and Covid19 is just one more thing blocking the path.  Your challenge is to find a way to move it  .. or go round it .. or go over it … or do whatever it takes to get past it, so you can keep moving towards your goal.  There's no need to go fast.  You just need to keep going and your Infinite Family will always be here rooting for and helping you along the way.