Cold, Flu or Coronavirus/Covid 19 – Which Might I Have?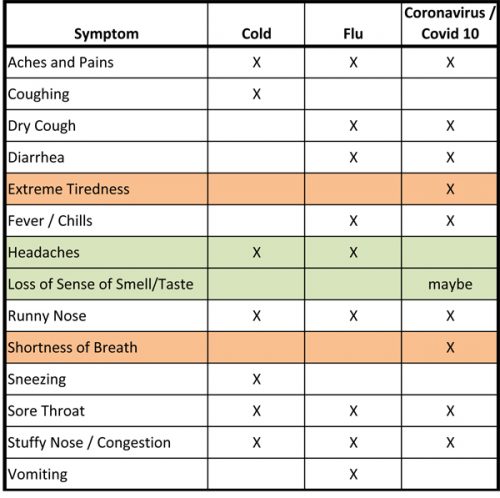 According to WHO and CDC, Coronavirus/Covid 19 shares many symptoms with the common cold and seasonal flu. However, it appears that Coronavirus/Covid 19 sufferers often have two symptoms that the other illnesses cause much less often: Extreme Tiredness and Shortness of Breath. Also, headaches do not seem to be reported, counter to  cold or flu sufferers. Many British and American doctors and healthcare workers have also noticed that Coronoavirus/Covid 19 sufferers may experience a Loss of Smell and/or Taste, though this has not been studied thoroughly yet.
It is important to remember that:
Symptoms may show up between 2 and 14 days after infection, and
People who are carrying Coronavirus/Covid 19 may pass it to others before they know they are infected.
However, approximately 4 out of 5 people who are infected with Coronavirus/Covid 19 will experience mild cases and recover completely without going to the hospital or other medical facility.