Covid-19 can't Keep Seacom from Connecting Our Teens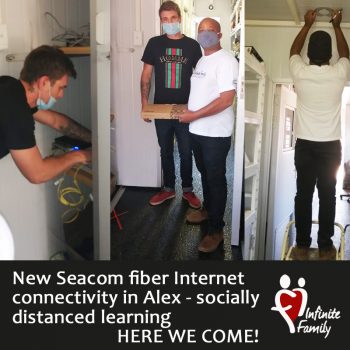 Since the multi-month lockdown that began on March 26, Covid-19 has changed a lot of things for South Africa's township teens. But six months and five levels of national alert later, our Net Buddies are excited to get connected again, ramped up by a new partnership with Seacom.
Seacom is a major player in the IT industry and one of the earliest providers of Internet connectivity to the continent of Africa.  Their cables have been some of the longest and largest underwater pipelines connecting Africa since before Infinite Family began in 2006.
In late 2019, Seacom came to Infinite Family with a proposal to install a 300 MBS fiber Internet cable to our LanchPad in Alexandra. We were thrilled at the opportunities for connection and online education this would bring to Infinite Family teens. But when Covid-19 uprooted lives across the nation, we were uncertain if the plan would come to fruition.
Thankfully, Covid-19 didn't deter Seacom. Instead, they spent the past few months finalizing the plan so they were ready to go when pandemic restrictions were lifted. They installed the final link on Sept. 29 — just in time for our Net Buddies' first video chat with their Video Mentors since March! 
Thanks to the new connection, our LaunchPad in Alexandra will now also double as an Internet kiosk for socially-distant learning outside in the fresh air. And, of course, thanks to you, our South Africa team was there every step of the way, meeting the pandemic's challenges and providing teens with creative, Covid-safe skills development activities. While partners like Seacom bring access to the LaunchPad door, it is donors like you who allow Infinite Family to take full advantage for our Net Buddies. Thanks to you, our Net Buddies will soon also have access to tablets to work even when it is not their turn to meet with their Video Mentor!
As the pandemic continues, our Infinite Family teens are giving us hope. Stay tuned for more stories of connection as our teens flourish together (at a safe social distance!) at the Alexandra LaunchPad.