Do What T.I. Does: Live Your Life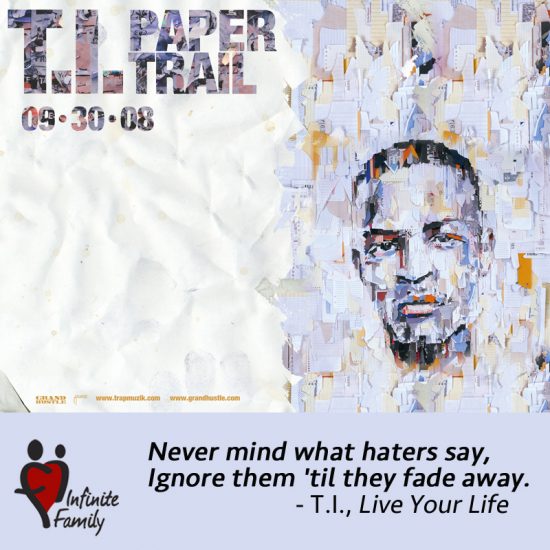 Never mind what haters say,
Ignore them 'til they fade away.
Amazing they ungrateful after all the game I gave away.
Safe to say I paved the way for you cats to get paid today.
You still be wasting days away, nah had I never saved the day.
Consider them my protégé, homage I think they should pay.
Instead of being gracious, they violate in a major way.
I never been a hater still I love them in a crazy way.
Some say they sold the yay and no they couldn't even work on Labor Day.
It ain't that black and white, it has an area that's shaded grey.
I'm Westside anyway, even if I left today and stayed away.
Some move away to make a way not move away 'cause they afraid.
I brought back to the hood and all you ever did was take away.
I pray for patience but they make me wanna melt their face away.
Like I once made them spray, now I could make them plead their case away.
Been thuggin' all my life, can't say I don't deserve to take a break.
You'd rather see me catch a case and watch my future fade away.
From Live Your Life by T.I.
Dear Net Buddies,
Seems like T.I. has a few thoughts about "sticking with his stripes" and doing his thing no matter what the haters shout.
What emotions do you think he was feeling when he wrote this song?
How does he respond to people who are stoking negativity?
What do you think he means by the last line – "You'd rather see me catch a case and watch my future fade away"?
You know what to do – triple credit if you try to write down your thoughts to a rap beat.