We Go the Distance for Our Net Buddies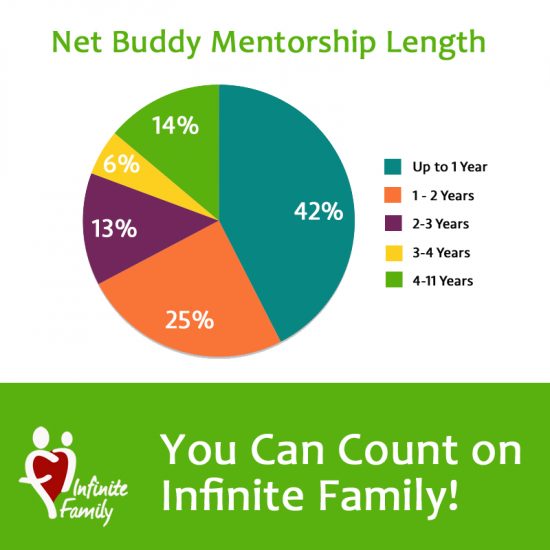 Dear Net Buddies & Blazers,
This pie chart might look like the start of a maths lesson – fear not, there is  no quiz coming. But it is important to understand what these number mean. While the largest slice of Infinite Family Net Buddy mentorships will always be those Net Buddies who have recently started and only been part of "the Family" for their first year, the most important numbers to see are in purple, yellow and green. These show Net Buddies who have been together with Infinite Family Video Mentors for two years or more – some even up to 11 years. These relationships are there to support their Net Buddies longer than any of your educators, choir directors, sports coaches, probably most of the other adults in your lives.
So, when we say Infinite Family is around to help you succeed in secondary, tertiary and to get a job – do you see what we mean? You really can count on Infinite Family to share your journey and cheer with you when you succeed.
But relationships take work on both sides and in this one – you are in the driver's seat. This is the secret of your fellow Net Blazers' success – Relationships take work on both sides and YOU lead how yours goes with Infinite Family.
So what do you think about that?
We will always want to hear what you have to say!