Nothing can Stop Nasty C Rapping his Way to Stardom!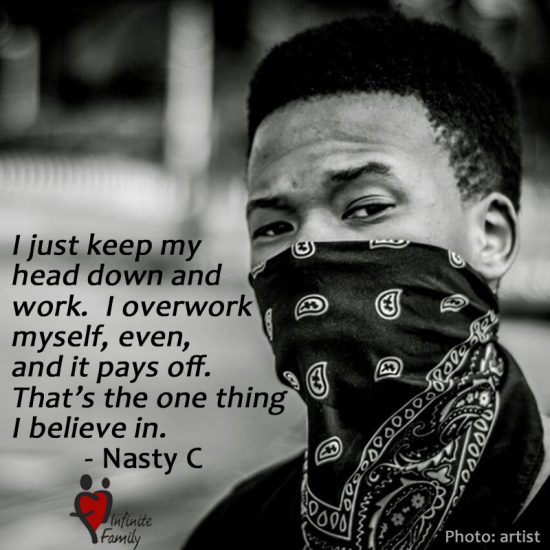 Dear Net Buddies & Blazers,
If you're feeling bleak about the disruption in your life this year, you'll know just how frustrated SA's very own Hip-Hop star, Nasty C, must be feeling. In March, he signed to US label Def Jam Recordings and was getting ready to move to the USA to build his international music career. But Covid-19 killed those plans and, like the rest of us, the multi award-winning rapper has been stuck at home in lockdown.
He'd be forgiven for climbing into bed and staying there until it's all over – or for complaining about his 'big break' being put on hold.  But, instead, he showed the same focus and inner-strength that got him noticed in the first place and decided to keep on working and making music!
In May, he'd been due to head off around the world to promote his new album – Zulu Man With Some Power – so, when the gigs were cancelled, he held the concerts at home instead.
Before he and his team went into self-quarantine, they organized cameras, lights and a sound system and staged a virtual concert – followed by a Q&A – and uploaded it for everyone to watch on YouTube.  And the 23-year old is generously donating proceeds from his single, They Don't (featuring TI) to the Freedom and Solidarity Funds.
Nasty C (aka Nsikayesizwe David Junior Ngcobo) is ready to make the move when things open up again but, meantime, he says: "There's nothing I can do about lockdown so I'm focusing on what I can do and that is staying in touch with my fans."
Described by Def  Jam CEO, Jeff Harleson, as "a unique and forward-thinking artist who is at the forefront of a new generation of rappers emerging from Africa," Nasty C is known for his impressive work ethic as well as his musical talent.
"Man, it's very exciting and it's powerful to be part of the Def Jam family," says the Hip Hop star.  "It is an iconic record label that has made the careers of the many of the artists I look up to and it's exciting because I really put in the work.  I just keep my head down and work.  I overwork myself, even, and it pays off. That's the one thing I believe in."