#PassTheMic – Notes from a Net Blazer, #3: What Keeps Me Going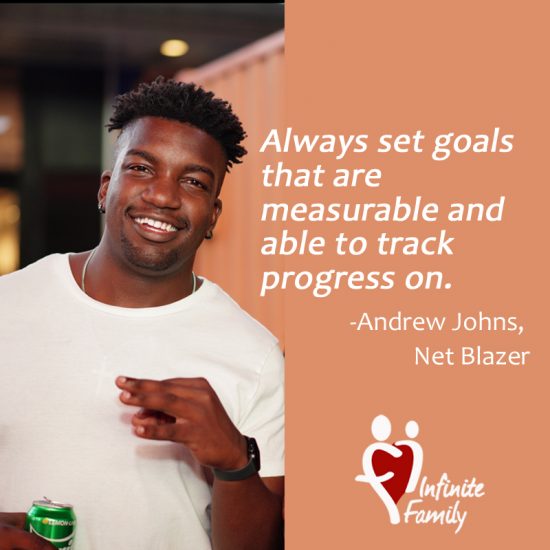 I grew up in Johannesburg, South Africa in a family with limited resources.  When my family was not able to take care of me and my siblings, we went to live at Nkosi's Haven, a non-governmental organization offering care and support for HIV/AIDS-infected mothers and their children, infected or not. Suddenly, I had 140 "siblings," and we all had one thing in common: going to college, anywhere, was a far-fetched dream. This didn't stop me from working hard in school, however, because I had a vision of my future that others couldn't envision for themselves: college in America.  This is what set me apart, my commitment to not allowing my background to determine who I would become. Today, I am the first and only person to leave Nkosi's Haven to attend college in the United States. And starting in September I will be continuing my studies and pursuing a MBA.
The last five years have been the greatest of my life so far. I obtained my undergraduate degree, I met a lot of wonderful friends, travelled and did things I'd never done before. But with all that, there have also been moments where I couldn't find the motivation to keep going and ended up a little depressed.  But, that's a part of life and growing up. Sometimes I feel like I'm not doing as much as I could be. This is when I tend to reflect and remind myself why I started this journey in the first place. Based on my background and how I grew up, that's enough motivation for me to pick up and carry on pursuing my dreams. Everytime I reflect on where I came from and where I want to be, I become motivated to do better. I find that in order to keep moving and growing, you have to be self motivated. I want the best for myself so I have to motivate myself to keep moving forward even when things seem hard.
I also set a lot of goals that are measurable. While I was in college I would challenge myself to always have an assignment done at least 2 days before it was due. I set grade expectations for myself, which I used as a way to feel accomplished. Every month or whenever I got a chance, I would take time to myself and reflect on my goals and what I had done so far to get there. All of this kept me motivated.
After college, I sent out over 250 job applications. It was hard when I didn't hear back from companies, but the more applications and interviews I did, the better I got at it. When I started working, I always set short-term and long-term goals based on my work. Most of the work I did was sales, so I set measurable goals throughout the day. This always helped reach my sales quotas, and also kept me motivated when work was slow.
When the pandemic started and we went into lockdown, I had to stay motivated even when there was not much to do. I still took the time to reflect, set goals, practice for the GMAT and apply to graduate schools. I also tried working out because that always helps me refresh my mind. Now that things are starting to go back to some sort of normal, I can say I've been accepted into all the schools I applied to, I signed up for mentoring, I worked out and so I can feel accomplished. Your happiness is all dependent on what you do.
Key Takeaways on staying motivated
Be self-motivated, and find a lot of the motivation within yourself
Take time to reflect
Always set goals that are measurable and able to track progress on
Working out helps clear the mind
Don't be afraid to ask for help. People who ask, receive, and those who don't never know what could have been.