Starting Off on the Right Foot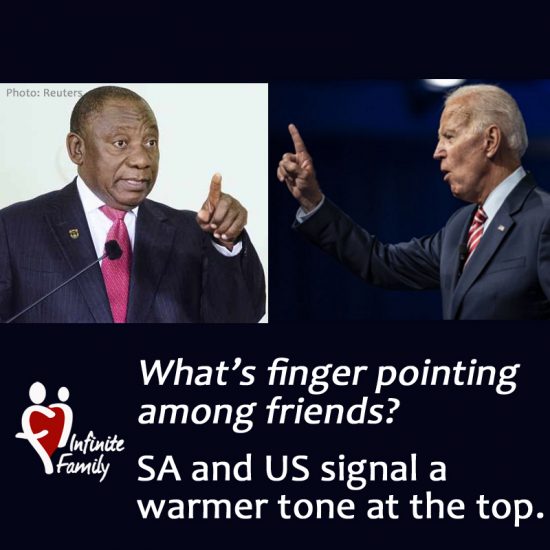 President Ramaphosa and President-Elect Joe Biden are both finger pointers – but they're good at other ways of communicating too. In their first discussion yesterday, the covered a lot of ground. On the agenda were: strengthening the US-Africa relations, overcoming the Covid-19 pandemic, stamping out corruption, leading recovery of the global economy and climate change. In a statement released later, @President Ramaphosa signaled good feelings from the conversation, "President-Elect Biden and Vice-President-Elect Kamala Harris have identified Africa as a major player in international affairs and in the advancement of multilateralism." The statement continued, "The leaders recalled a visit to South Africa by President-Elect Biden during the dark days of apartheid, where Mr Biden demonstrated his commitment to human rights and dignity for all South Africans." At Infinite Family, we have seen that great things can happen when Americans and South Africans work together and welcome a warmer tone at the top!
Exerpts from: "Ramaphosa and Biden have phone call in positive start to relations –here's what they talked about," Staff Writer, BusinessTech, November, 2020.