Stay Positive and Safe Safe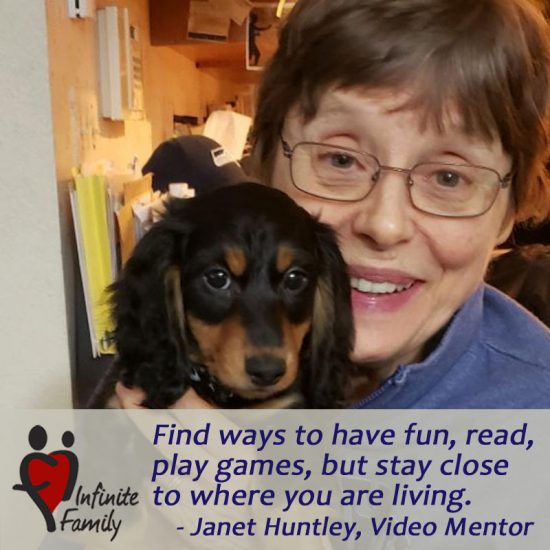 Hello, my name is Janet Huntley.  I live in Washington State here in the U.S. Our state has been hard hit by the coronavirus, but we are all homebound and so there are fewer new cases now. 🙂  The only people who can leave their homes are those who work in the medical system, in grocery stores and in daycares. They are taking many precautions to stay safe and keep those around them safe. You can stay safe, too, by staying home or another place that feels safe, wash your hands often, and follow any other rule your grown-ups tell you to follow.
One positive thing about this is that I get to spend more time with my husband. And friends and relatives are calling us or emailing us to keep our spirits up and check on us. It's fun to feel like I am with all of them as we go through this together. My husband and I also Facetime on the computer with our granddaughters.  That is lots of fun!!  They like to make the funny faces that you can put on the screen. (I don't know what that is called. Do you?)  Through all this, I am trusting the scientists around the world who are working to find a treatment for coronavirus and a vaccine. Then the whole world can be safer, especially when everyone can we get the vaccine.
So find ways to have fun, read, play games, but stay close to where you are living. Know that your Video Mentors miss you, sending you good wishes and most likely prayers, and they look forward to seeing you again.  I know I miss Ntando!  I can't wait to talk with him again!
– Video Mentor Janet Huntley