Just a Bit Further. Stay Safe Net Buddies.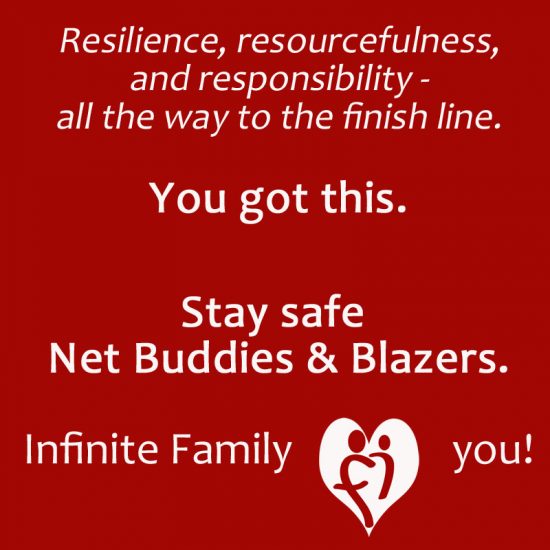 Hey Net Buddies, as if the challenges of lockdown aren't already enough, now there's news that some South Africans have had encounters with members of the police and military that have ended badly.  Apparently, this has happened when social isolation regulations have been violated and there are a few things we need you to know.
Firstly, it is absolutely not OK to ignore the stay-at-home rule.  It's vital for our own safety and for the safety of those around us.  So, please, make sure you do what we've been asked to do.  It is the only way scientists and lawmakers believe we're going to beat this thing.
Secondly, these are scary times and, when people are stuck in one place and unable to earn money to feed themselves and their families, it is understandable that things can get very emotional for everybody.  However, it is not wise to get into a conflict situation with the people in authority, especially when there is a risk that things can escalate quickly.
Thirdly, and most importantly, your safety and well-being matter – not just to yourself but to all the members of the Infinite Family around the world who care about you.  So, here are a few things we'd recommend you do to keep yourselves safe:
Recognise that the SAPS and military personnel have been deployed by the government to ensure all South Africans stick to the conditions of lockdown.  They should treat you courteously – and you should do the same to them – but these are emotional times and misunderstandings can occur on both sides when people are stressed.  It's important that everyone does what they can to avoid things getting heated.
Stay home.  If you're in lockdown, behind closed doors, there's less chance of trouble.
If you have to go out (to the shop or to get medical help), go straight there and, when you're done, go straight home.
Make sure you cover your nose and mouth with a home-made mask or a scarf to protect yourself .  (From Saturday it will be compulsory and, when you're wearing one, you're less likely to be stopped and questioned.)
Make sure you keep a 2m physical distance between you and everyone else.  (Again, if you're following the rules, you're less likely to be stopped and questioned.)
If you are stopped and questioned, make sure you co-operate by answering any questions clearly and politely.
If you feel you are being misunderstood, or being treated unfairly, make sure you express this in a respectful way.
Things are far from perfect right now, but we can always find ways to help one another. If you have any concerns you'd like help to work through, or other suggestions to make that might help other Net Buddies, please put them in the comments.