"Tough" or "Nasty" – Depends on Who's Posting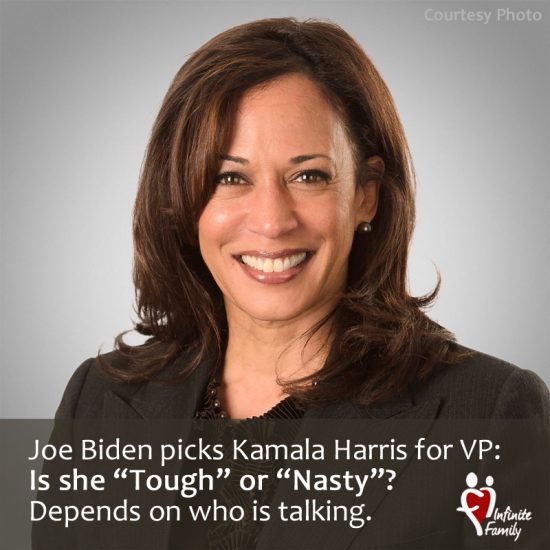 Excerpts from: Biden picks Kamala Harris as VP nominee, Politico, August 11, 2020
Joe Biden has selected Sen. Kamala Harris to be his running mate, elevating a charismatic blue-state senator, former prosecutor and onetime 2020 primary rival who has built a reputation as an unyielding antagonist of the Trump administration.
Harris, the daughter of immigrants from Jamaica and India, was the wire-to-wire frontrunner for Biden's No. 2 job…
Harris will be the first woman, the first Asian American and the first Black vice president if elected. And Biden's barrier-breaking pick of her comes at a time of racial reckoning in the country, plunging one of the best-known women of color in politics into a contest against President Donald Trump, who has stoked racial divisions in the White House and on the campaign trail.
Biden "nailed the decision" for running mate in picking Harris, former President Barack Obama said calling the selection of a vice presidential nominee "the first important decision a president makes."
In the Senate, Harris' must-see cross-examinations of Republican witnesses in hearings helped elevate her national profile. She was considered a top-tier presidential contender when she launched her campaign last year before more than 22,000 people in her hometown of Oakland. But even as she displayed flashes of brilliance as a candidate — including the clash with Biden in the Miami debate, which temporarily boosted her in polls and helped her raise millions of dollars…Harris' campaign unraveled under the weight of a confusing message and an unclear chain of command atop her staff, ending in mutiny amid late-fall layoffs.
Dear Net Buddies,
What is special about Kamala Harris as a running mate in the US Presidential election coming up in November?
What are some of her strengths?
What are some of her weaknesses?
Why do you think President Trump calls her "Nasty?"
You know what to do: write down your thoughts and make sure they get back to Infinite Family.