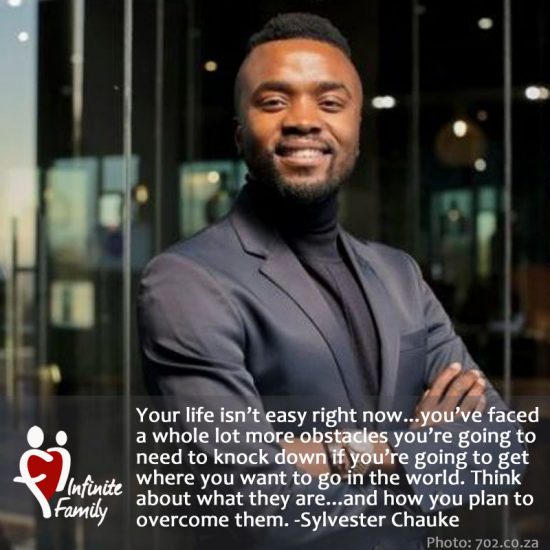 If you haven't heard of Soweto homeboy Sylvester Chauke, you'll definitely know his work.  Some years back, he was the brainchild behind Nandos' clever, cheeky and funny ad campaigns and his trademark approach to brand building is something all South Africans have come to know and love.
Nowadays, he's the Founder and Chief Architect of his own marketing and brand consultancy – DNA Brand Architects – which develops leading-edge strategies and campaigns for some of Africa's top brands.  He is a sought-after speaker, sits on the boards of several big businesses, has represented young African leaders at the World Economic Forum (WEF) and his company, among its many accolades, has just picked up the prize for World's Best Consumer & Brand PR Agency at the ICCO Global Awards.
Sylvester Chauke is on fire!  And, to look at him now you might think he was a born a Black Diamond, but you couldn't be more wrong.  He grew up in extreme poverty and was burdened for the longest time with the realisation that he was gay at a time when it wasn't cool to be open about it.  But though he felt different, and awkward, he was always brave and driven to get ahead and, despite endless challenges during his teen years, he hustled and studied (and tap-danced) his way to success.
Earning a scholarship to the University of Johannesburg (UJ) was his first big win.  Then he copped himself an internship with one of SA's leading advertising agencies, where he soaked up everything they taught him and fell in love with the business and the people who mentored him.  He tells the whole story about his life and his game-changing work for MTV and Nandos, in his inspirational book, Stand Against Bland, and it's a really great read.
Here's a guy who had every reason to give up but he just kept on knocking down (or tap-dancing over!) the things that stood in his path and the best part is, he did it without ever losing himself.  Aside from being smart, successful (and, without doubt THE most stylish dresser in Jozi), he's a man of real integrity, with solid values, who stayed strong even in the toughest times and prides himself on the fact that, no matter how far life takes him from his humble beginnings, he takes everyone along for the ride with him.
Your life isn't easy right now.  And, in recent weeks, you've faced a whole lot more obstacles you're going to need to knock down if you're going to get where you want to go in the world.  Think about what they are … and how you plan to overcome them.  Where will you look for help?  (No-one needs to do it alone.)  What are the things you can do for yourself that will make a difference right now?  Try asking yourself " What would Sylvester do?"