World's Richest Black person is Nigerian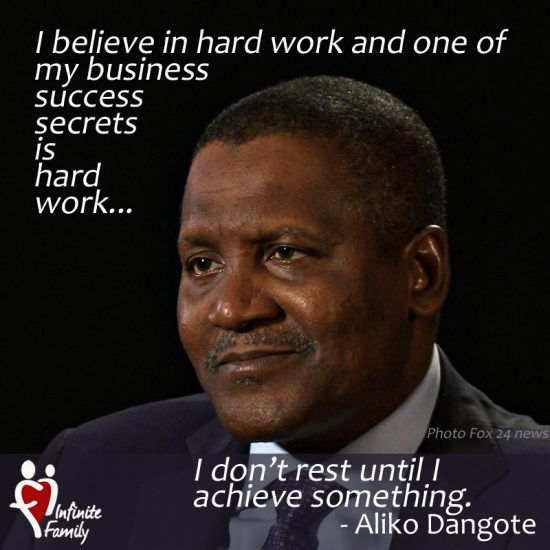 Aliko Dangote is the richest man in the whole of Africa and also the World's richest Black person according to Forbes. He founded and chairs Dangote Cement, which is Africa's largest cement producer. To break down his wealth, he owns 85% of his company which is publicly traded. According to Forbes, his wealth also comes from owning stakes in publicly traded salt and sugar manufacturing companies alongside numerous other investments.
Dangote is 63 years of age and a Nigerian citizen. He is regarded as a family man with three children. He obtained a Bachelor of Arts/Science, from Al-Azhar University in Cairo, Egypt. At a young age, Dangote's father passed away and he was raised by his grandfather. A fun fact about Dangote is that at the age of 21, he borrowed $3,000 from his uncle to import and sell agricultural commodities in Nigeria. His business took off and he was able to pay back the loan within three months.
From a young age, Dangote was passionate about business. According to an article in Investopedia, Dangote was quoted saying "I can remember when I was in primary school, I would go and buy cartons of sweets [sugar boxes] and I would start selling them just to make money. I was so interested in business, even at that time."
But don't think Dangote's success came easy. He took part in many business ventures, some that were successful and some that were not. So how did he become Africa's richest man? It all begins with a passion for something, in his case business. When the going was hard, he stayed focused on his passion. Success is not easy – those who quit fighting to achieve that they want never get there! Success requires a lot of work so you need to be willing to give it your all.
Dangote is like many of us. He is African and Black. Even though he came from a family with resources, he needed to have a passion for something, then grow it. What is important in Dangote's story is that even when things were hard and not going as planned, he kept pushing to succeed. That's why today if you take a look at his investments, they range from real estate, steel manufacturing, cement, consumer goods, oil and gas, and telecommunications. But all these of investment options came along only after he put in the initial hard work.   – Andrew Johns, Net Blazer