You Can Make Amazon Bring a Smile to Teens in South Africa!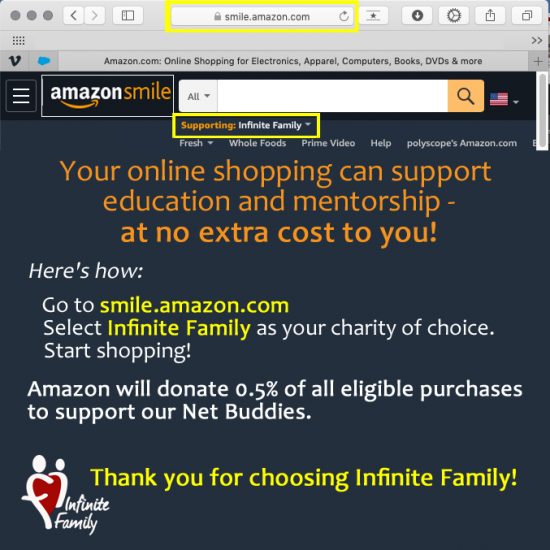 With the threat of Covid-19 potentially everywhere, being responsible – aka using masks and social distancing – will mean in-person shopping is more complicated and less enjoyable for many months to come. But this doesn't mean we won't still need food to eat, supplies for work and home projects, and an occasional new toy, puzzle or book for our children and pets. It only makes sense that many of us are turning to online shopping with Amazon since they make it easy and convenient in so many ways.
For many of us, though, it's not really that easy.  We may feel guilty about abandoning our local shops  or supporting a giant corporation that is too often in the news.
There is one more option: Keep shopping online when you need to, but make sure your purchases  support education and mentorship in South Africa at the same time!
Here's how:
1.  Go to smile.amazon.com.
2.  Select Infinite Family as your charity of choice.
3.  Start shopping!
It really is that easy—at no extra cost to you, Amazon will donate 0.5% of every eligible purchase thru Amazon Smile to Infinite Family's mission.
So, what are you waiting for? Make Amazon bring a smile to our teens in South Africa and cross shopping off your list!