Find Happy (and her Certifications) on LinkedIn Now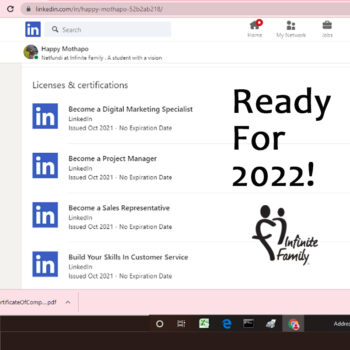 Being first in family to college was never easy, now it's near impossible to even give it a try. One of the little noticed ripple effects of the pandemic that Infinite Family has seen is that it is even harder for young adults to access college or any kind of advanced education or training. Scholarships are being reduced and any money anyone manages to earn is quickly spent on rising prices for food, gas and other essentials. Our South African Net Buddies and their families can make a cent stretch further than anyone we know, but there simply aren't enough cents to go around.
It would be easy for our alums to fall into despair and give up. They have already fought so hard just to hold on to their dreams and keep moving forward. But our South African alums usually fall back on the mantra their peer, Elsina, learned from her Video Mentor Alicia: "Rest if you must, but don't give up."
Our alums don't give up, and they haven't even been resting so much. With access to computers and the internet through Infinite Family's computer labs, our alums and their peers have jumped in full force to gain as much upskilling as possible via Global Skills Initiative South Africa, GSISA for short.
Happy, pictured here, has finished 4 out of 10 courses and plans to get a few more skills under her belt before the end of the year. The great thing about GSISA is that her certifications appear right away on LinkedIn so when employers are hiring in the New Year, they will know she is ready. Well done Happy!