Getting Global Jobs Starts with Building Global Skills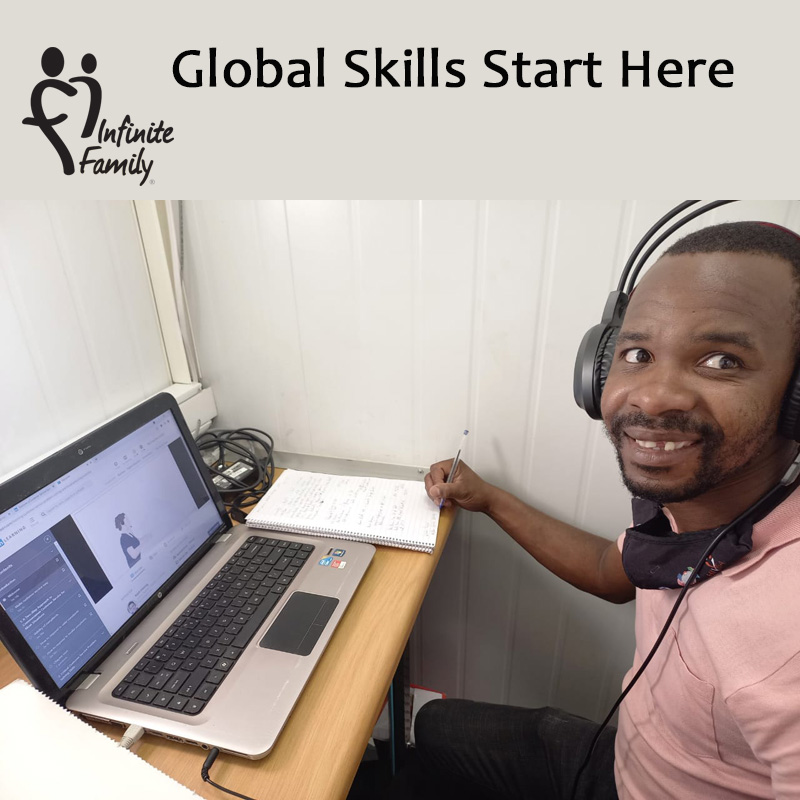 Infinite Family's teens distinguish themselves in many ways, the first of which is by going against widespread norms in their communities and staying in school through 12th grade. Then they have the audacity to aspire to continue on to college. Imagine how frustrating it is, after working so hard and beating the odds only to have this pathway to a better future shut down later on. Maybe funds saved for college had to be spent to feed the family during the pandemic. Maybe there are younger siblings or an ailing elder to care for. It could be any one of a hundred reasons that block a student's ability to go away for an advanced education.
Your support this year is eliminating many of these barriers to getting a good job. We thought it would take until early 2022 to get started, but with your help, the first 50 of our Net Blazers are starting now via the Global Skills Initiative South Africa. Working with other NGOs to create access to Microsoft's digital skills building programme, Infinite Famiy has created the infrastructure for our alums to return to the LaunchPads to take intensive, online courses in ten (10) different areas including: Customer Service Specialist, Data Analyst , Digital Marketer, Financial Analyst, Graphic Designer, IT Administrator , IT Support/Help Desk Technician, Project Manager, Sales Representative, and Software Developer.
Thanks to you, as long as they finish what they start, ranging from six (6) to 35 hours, the courses are free and deliver distinguished digital certifications. LinkedIn has created a hiring portal that facilitates searching for talent based on these certifications, making it easier and faster for companies to find qualified people. By the end of November, many of our Net Blazers will be qualified, more competitive and easier to identify with several new skills sets each! Alfred N. above, studying in our Alexandra LaunchPad, was one of the first to sign up and is now getting a jump on the competition. Our privacy booths make it even easier to work without worrying about Covid-19 precautions.
Your ongoing commitment to our teens inspires them to continue to work towards the good jobs that exist outside of their communities. Learning to invest in themselves with new skills helps them build resilience and adaptability for the always evolving global workplace. Especially during these terribly difficult times, our students have needed to know they weren't alone in their efforts to fight for a better future. You answered our call and they keep moving ahead.