Stability is a Strong Place to Start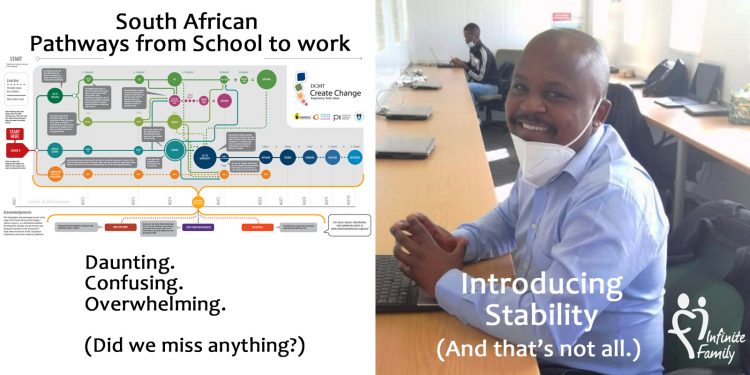 Stability is what any new program needs and what Infinite Family will build on to begin bringing online education to the townships. How do we know we have a stable foundation for these new services for South Africa's teens? Well, his name is Zinzo Tebe and Zinzo means "Stability" in IsiXhosa, his first language. We are pleased to introduce Zinzo today as the newest team member to join Infinite Family. He lives with his brother, two "big husky dogs and one small cat" on the outskirts of Cape Town, in Khayelitsha, just a short walk from our LaunchPad.
We knew that Zinzo was the man for this job when he showed us a graphic that he had already studied in detail. The graphic he shared was a description of the South African school system and all the ways a teenager can navigate her/his/their journey from student to career. (You may see this confusing system in the photo above.) Challenges don't intimidate Zinzo, especially those that bring new opportunities to South African children. In fact, Zinzo has been working with technology to deliver educational resources to students since 2014. He is a proven problem solver and quick to learn whatever he needs to get the job done, which we know he will need to climb the many learning curves that these new technologies bring.
We are also excited because Zinzo is an excellent role model for the teens and young adults with whom he will work. In addition to knowing the local schools well, the personal values that matter most to him are discipline, punctuality, honesty and trust. These are powerful characteristics for our Net Buddies to see in action on a daily basis! Getting to know Zinzo has also expanded Infinite Family's staff vocabulary. We now know that ophidiophobic means having an incredible fear of snakes and that this is the most widely reported fear, affecting approximately one third of all adults. We confirmed this ourselves during a recent staff meeting: we can't easily say it, but several of us are definitely ophidiophobic!
Zinzo starts his day at 5am every morning and is a big fan of coffee, audio books and classic rock, gospel and New Age instrumental music. He is excited to join Infinite Family to bring new resources and opportunities to local young adults striving to build more secure and stable lives. While everyone at Infinite Family doesn't always start quite as early as Zinzo does, we do wake up each day deeply grateful to you, our generous donors and GlobalGiving, for making it possible to expand our team and take on these important new challenges in our South African communities. Thank you.