Thanks to YOU, Our Infinite Family Remains Strong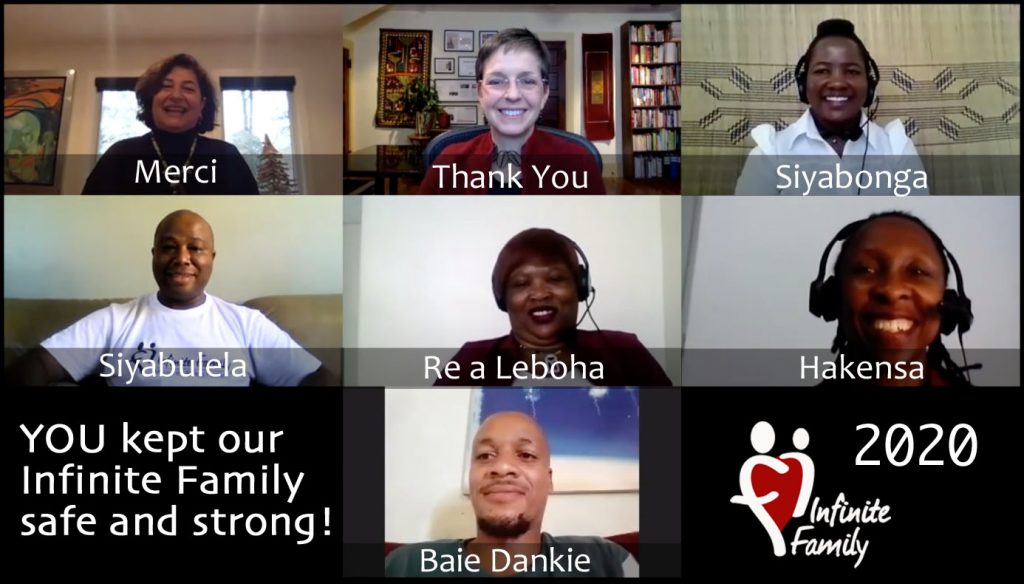 2020 was truly a year for the books – one that most of us would prefer not to read again.
Because you are part of our Infinite Family, we know this isn't the whole story.
Your support in 2020:
Kept our Net Buddies and staff healthy and safe – in mind and body.
Launched new partnerships.
Strengthened Community networks.
Advanced our technologies to meet new Net Buddy needs.
These times aren't easy, but your unwavering support made our Infinite Family stronger.
We can't say it enough – but click here and we'll at least get started – Thank you for being part of our Infinite Family!

Absolute Containers I   Joy-Marie Abulokwe-Krapp F   Suzanne Ackerman-Berman F   Ad World Services I   Judy Adams M                                Adcock Ingram F   Abimbola Adegbite M   Adobe I   Lynn Ainsworth and James Mercurio F   Alyssa Aitken M                                                         Alexandra Child Care and Support Centre P  Allied World F   Nicole Alper F   Jo-Ann Alperin MF   Susan Alperin F   Amazon I                        Amazon Smile Foundation F   Elinor Amlen MF   Kelly Andrade F   Annenberg Foundation I   Anonymous F   Amelia and Branden Antes MF   Wanda Arocho M   Katrina Ashley I   Mpho B B   Natasha Malhotra Bagchi and Indranil Bagchi F BakerHostetler I   Aishwarya Balaji M         Onke B B   Jeanne Barker F   Phillip Baskerville F   Walter Bastard I   Rebecca Batts-Legg M   Angela and Hank Beekers-Uberoi MF                           Elia Ben-Ari F   Hanzell Benavides MF   Junior B B   Melanie Bergstedt F   Anathi B B  Angela B B   Nikki Bernhard F Aimee Bernstein F  Bongani B B  Kristen and Cole Bonner M  Marsha Bonner I   Simone Bouyer I   Deena Boykin MF  Andre Brandmuller D  Patricia Branham F  Mary Jo Ann Briceno M  Steve Briggs I   Marjorie Broffman M  BT Communications Services South Africa F  Naledi B B  Kate Bushmann F  Jemma Byrne V   Alicia Cahill and Soon Ha MF   Yvette Campbell F  Joy Campbell F   Gail Cantor-Petrowsky F   Irasema Carrasco F                 Linda Carter I   Kathleen Casey F   CatchaFire I   Patricia Ceruzzi and Martin Joyce F   Khalil Chaudhry M   Precocious C B     Sue Checchio M F                         Crystal Chilman M   Ellen Clancy and Richard Rottkov F  Clarix Technologies I   Darren Clarke, PhD F   Hylda Clarke F                                       Susan Cole and Jeff Thompson F   Heather Coleman F   Mike Collins M   Rita and Jerome Conrad, MD F   Dawnna and Chris Conrad F       Nancy Cook, PhD MF   Linda Coon M   Kaitlyn Cooper M   Lilian Cordoba Vazquez MF   Colin Cowie F   Cathi and Chris Coy F                             Noma Cristovao M   Deborah Cunningham F    Curveball Consulting I   Dariya Dalvie M   Tsebo D B   Charlotte and Richardt Dannhauser FI   Marla Daugherty M   Sheena Davis M   Amila De Silva V   Cindy Derrow F   Paula Derrow and Randal Chinnock MF   Jodi and Tom Deschaine F   Tara DeWorsop F   Dimension Data SA I   Mangaliso D B   Nonhlanhla D B   Refiloe D B   Scelo D B   Sphamandla D B   Sally Downie M           Jannis Drixler M   Emily Du Plessis M   Juan D B   Charlene Dubay M   Carol Durst-Wertheim, PhD, and Les Wertheim F   Bahle D B           Michael Edwards M   Victor Em F   Maryam Enders MF   Martin Eneglbrecht I   Linda English F   Georgina E B   Victoria Erville F                Reabetsoe F B   Beth-Ann and Adam Finerman MF   George Firth and Carolyn Hart M   Joan and Aaron Fischer MF                                                       Lidia Fouto and Steven Cancro F   Marla and Frank Franzese F   Carl FreisF   Marty Froman F   Nomusa G B   Candice Gallagher F                  Jagruti Gandhi, PhD and Neil Ghandi MF   Shubham Garg I   Sifiso G B   Ralph Gilchrist M   Ralph Gilchrist M   Max Glaser M                     GlobalGiving Foundation F   Chereen Godwin F   Dana Gold F   Goodera I   Sereshan Gopaul I   Trevino Govender I   Ann and Steven Graham F   Cynthia Green M   Julia Grzywinski M   Roberta Gumbel F   Claire Gutekunst and Art Perlman F   Amahle H B   Gail and Leon Harper F              Tal Hart M   Nalleli Hassan M   Lanette Hattingh, PhD I   Phillip Hawkins V   Jessica Hecht F   Alysa Helvig V   Saeed Hendricks M                   Rhonda Herrera M   Tom Heyer F   Alliyah Hill F   Claire Hilton V   Molly Hilton and john Anderson F   Lebohang Hlalele M   Samantha Ho M   Betsy and Alan Hohlfelder F   Jody and Joseph Horowitz F   Justin Horowitz V   Sally and Van Hudson F   Douglas Huffaker M                             Amy Humbert MF   Janet and Ray Huntley MF   Ginny Hutchings F   Nacor Ibanez Fernandez MF   Internet Solutions International I         Sergio Irizar V   Roy Irvine M   Preeti Jain M   Tiber Jain M   Luthando J B   Jockey Hollow Foundation F   Gail Johnson P   Janice Johnson F   Lisa Johnson M   Sarah Johnson M   Liyabona J B   Miles Josephson F   Videsha Joshi M   Debra Kahn M F   Tamiko Kamara F   Rensburg K B   Magdaleen Kepm M   Kohni Kennedy-Gonzalez M   Ginny and Bill Kerwin F  Thando K B  Thato K B  Michelle K B  Thabo K B  Sally Kilbridge M   Christine Krause, MD and Ed Krause F   Robin Krause F   Tania Kravath and Carolyn Chadwick  F   Kristy and Chris Kubacki F   Bette Kun D   Sphesihle K B   Maria and Ken Laberteaux F   Rita and Thomas Laberteaux F   Lynn and Joe Lacross F   Elinam Ladzekpo M   Dona Laketek F   Angela Carr Lambson and Roger Lambson MV   Owen Lampe I   Laura Langfitt F   Laura Fé and Gerd Norga MI   Anthony Lavelle M         Katleho Lebata D   Mohau L B   Tshepiso L  B   Vincent Lee M   Mbali L B   Milisa L B   Robin and Stan Lent F   Sarah Lent F   Lucilla L B            Pule Lethokwe M   Matthew Levitt F   Lexis Nexis Risk I   Jacqueline Liesch M   Lightful I   Lisa and Lewis Liman F   Johnnie Lloyd M            Diane Loffmin F   Luisa Lorenzo M   Rachel Lovett MFD   Zethu Luvhuno S   Koketso M B   Goodness Mabasa S   Athayanda M B   Hlompho M B   Alison Mack V   Holly Maguire MF   Hope M B   Bongumusa Mahlalela M   Tebogo Mahlangu M   Lesedi M B   Melody Mak M   Nilesh Makan M   Ncumisa Makasi P   Mpumezo M B   Bernard M B   Elizabeth M B   Puleng Makhanya S   Luyanda M B   Lehlogonolo M B   Baphelo M B        Shaun M B   Rana Mansour M   Musa Manzi, PhD V   Zoleka Maphalala S   Mia Marais and Johannes Hanekom F   Shell Marston M                  Rita Martinez M   Moleboge M B   Neo M B   Relebogile M B   Kamogelo M B   Nqobile M B   Denzel M B   Natasha M B   Lamla Masiza S               Raz Mason M F   Avela M B   Katlego M B   Mihlali M B   Irene Matjiu P   Beena Matthew M   Aphiwe M B   Solomon M B   Ellen MazzeoF          Litha Mbadlisa S   Nkanyiso M B   Lethokuhle M B   Lauren McGill F   Kevin Medendorp F   Mehlwana Secondary School P   Parimal Mehta M F   Xhanti M B   Tonia Mendinghall M   Katie Michel F   Debby Milack F   Mayur Mistry F   Michael Mitchell M   Thembela M B   Zandisile M B   Ronnie Mlambo M   Basetsana M B   Pinky M B   Mpho Modisakeng S   Nombuso M B   Thapelo M B   Thato M B   Bongani M B   Obakeng M B   Sipho Mona P   Mashadi Monaledi M   Maria Montero Garcia M   Emma Moore I   Jacqueline Mosalisa M   Tai Moses F   Wanga Moshani S   Sherry Mosqueda Halverson F   Happy Mothapo S   Happy Mothapo S   Happy M B   Mihle M B   Litha M B  Tshepang M B  Beauty Mpongwana I   Beauty Mpongwana I   Zintle M B   Promise Msitshana S   Ndoda M B   Felicia M B   Kagiso M B   Minentle M B   Murendeni Muedi M   Isaac M B   Michael Murphy M   Jenica Myszkowski M   Sarah Nahikian F   Chan Naidoo M   National Mentorship Movement I   Gustavo Navarro M   Kamva N B   Alfred Ndhlovu S   Letty Ndlovu I   Cynthia Ndlovu P   Andre Nel F   Netflix F   Yolanda N B   Asanda N B   Lwazi N B                    Nkosi's Haven P   Anathi N B   Sicelo N B   Siphesihle N B   Benni North F   Kate Norton M F   Laura Marie Caldwell F   Awakhiwe N B                Tim O'Mara MFV   Anne Marie Offer F   Sara Olsen F   Kathryn Osterholzer, PhD and John Osterholzer, MD F   Rivash Panday M                 Angela Paolicelli-Ortiz and Elliot Ortiz F   Nicole Parks MF   Beth Parrish F   Patterson Belknap Webb & Tyler I                                                      Alison Paul and Mark Pomerleau F   PayPal Giving Fund F   Martin Peet M   Lwando P B   Jennifer Pereyda M   Performata F   Dennis Perry MF   Buntu Petse V   Tselane Phiri I  Ntando P B   Pick n Pay F   Susan Pizzolla Gentil F   Nikki Plummer I   Lumka Phoswayo I   Christina Potsane S   Palesa Potsane S   Mbalentle P B   Jennifer Potter MF   Sheila Prakash M   Chaman Prem M   Jenny Pucci F   Pulse Contact Solutions F        Aphiwe Q B   Goodwill Qushwana P   Maule Radebe S  Moni Rampola S  Shari Gelber-Ratner, MD and Adam Ratner, MD F  Michael Robins MF   Erin Rocchio M   Mariana Rocha M   Nicole Romero F   Leora and Daniel Rosenberg F   Susan Rubin F   Alex Rubins F   Keith Rubio M             Dean Rutherford I   Peter Ryce F   Sophie and Joseph Sacca FD   Frances Sadler F   Juliette Salas M   Gugu Sangweni B   Setareh Sarrafan F   Mariam Sarrafan and Fati Sanil FVS   Mary Beth Sasso F   Ernie Schmidt M   Stephanie Schneider F   Todd Schoeman F   Seacom F   Lesedi S B   Nthato S B   Mpho S B   Johannes Selepe S   Lynn Sewell P   Vasudha Sharma M   Dan Sherry M F   The Sidman Family F   Zizipho S B   Mpendulo S B   Phindile S B   Collen Sithole F   Skolnick Family Charitable Trust F   Barry Skolnick F   Zuraida Smail I                                            Small Business Administration F   Ayssa Smith-Lee M   Helen and Jay Smith F   Jemma Smith I   Paula and Stephen Smith F   Tejal Soni M   Lituka Sphokazi S   Kurt Spitzer F   Laura Starnes F   Amy Stewart M   Adia Stokes FV Amy and Chris Stokes FDS   Diane and Cary StokesF   Marcia and John Stokes F   Laurene Stopford MF   Gabi Strijp I   Parvathavarthin Subburam M   Janet Sullivan F                                                       Kim Svoboda and David Belmont M   Lisakhanya T B   Devon Taylor I   Elisabeth Templin F   Itay Tenne F   Nevet Tenne M  Maite Terblanche M   Betsy and Mike Terry F   Tshepo T B   Moses Thanjekwayo P   Katie and James Thomas F   Motlatsi Titipana M   Masawandile Tom M   Akhanani T B   Ronnie Toumayan M   Kevin Travis FD   Heather and Chris Tressler F   Leon T B   Ongeziwe T B   Ekemini Udom M               Jeanette van der Werf F   Sandra Vascellari M   Nina Vaughan M   Velokhaya Life Cycling Academy P   Odette Veneziano M   Christina Vine M   Angela Vitaliano M   Robert Vlahakis M   Cynthia Vuelvas F   Comfort V B   Sipho Vundla I   Dawn and Dana Wales F   Chloe Watkins M         Wells Fargo F   Gary Whitaker I   Clayton White M   JJ Wiegand I   Dave Wilson I   Christopher Winn M   Adela Winter M                          Emmanuel Witherspoon F   Tom Wowkowych I   Lesley Yaniv MF   Keli Yeats M   Asakhe Y B   Iviwe Z B   Mandilakhe Z B   Sibusiso Z B
B: Net Buddy   M: Video Mentor   V: Volunteer   F: Financial Sponsor   I: In-Kind Sponsor   D: Director   P: Community Partner   S: Staff