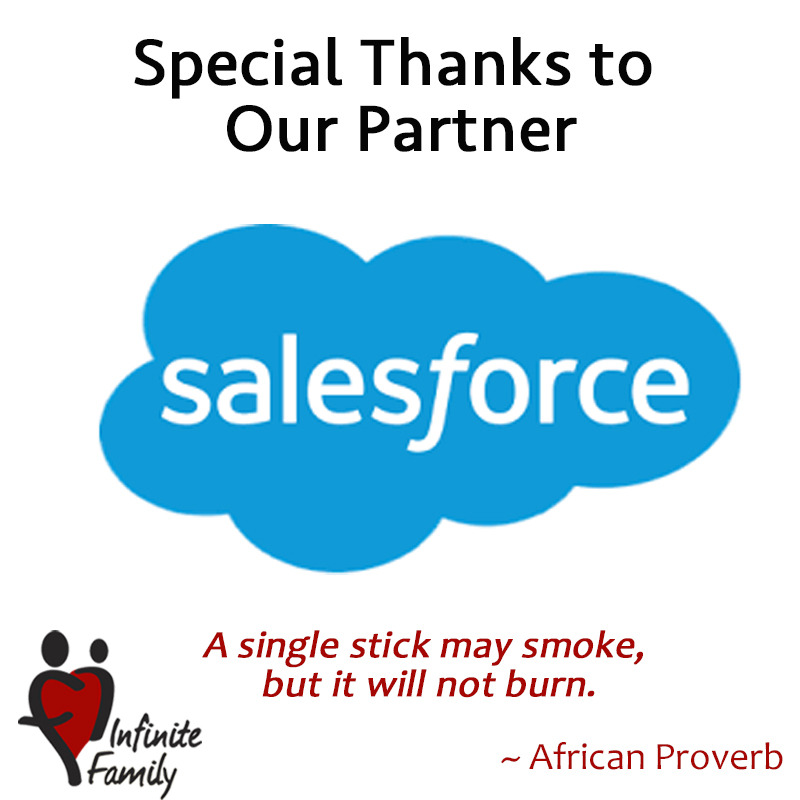 At last count, our Infinite Family was located in 22 countries and in multiple time zones in most of them. Supporting everyone requires much more than spreadsheets or shared docs! We couldn't do any of it without Salesforce and their incredible worldwide team! In just this past 12 months, we have had the honor and pleasure of working with 16 incredible Salesforce team members and will be adding one more to our network next week. Special thanks to this group for their extra hard work helping us to migrate our cloud community relationship management (CRM) platform.
Jhoben Bendana     Catherine Bernard     Douglas Burt     Tara Chengalvala     Ann Crawford     Taylor Droke     Kemi Le     Brian Mattos     Christine Miller     Priyanka Monga     Vikram Nanduri     Mansi Patel     James Thomas     Mélanie Veilleux     Emer Walsh     Alex Weir
You are all very talented, thoughtful, reliable and creative – the full professional package at the end of each webcam!  We thank you every day for keeping Infinite Family fully operational throughout the process and now in better shape and with more tools at our fingertips than ever. You are a critical part of our Infinite Family and we deeply appreciate your sharing your skills and expertise to help us strengthen South Africa's teens!
#global #teamworkmakesthedreamwork #alwaysthinking #makingadifference #makinganimpact #innovateforlife