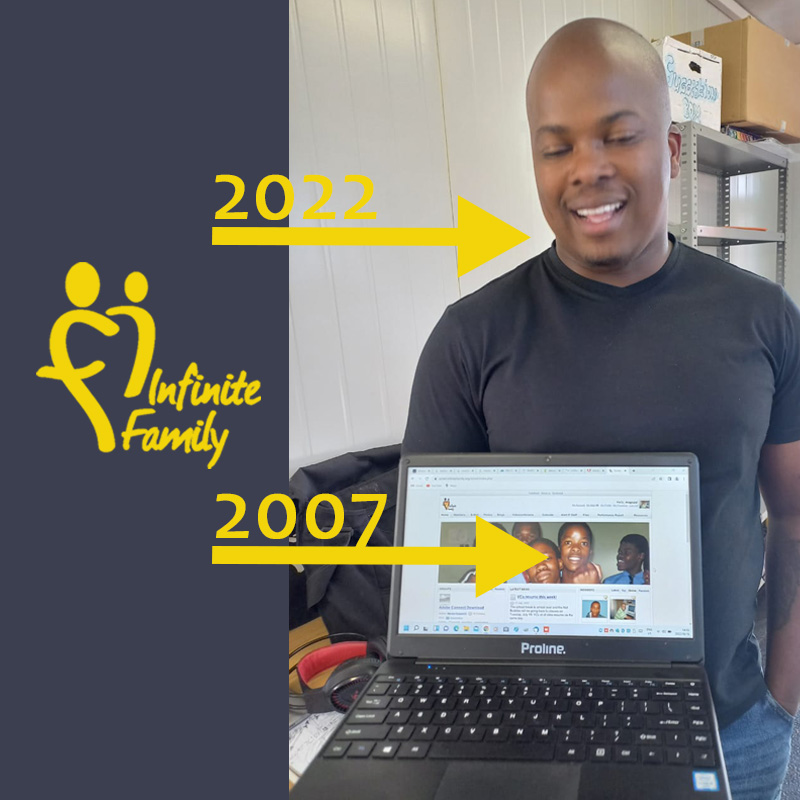 How do we know how well our alumni are doing, long after they finish high school? They come back and tell us, just like Sakhi did recently. Sakhi and his older brother, Zweli, were two of our very first Net Buddies in Alexandra Township. Sakhi was just 14 in 2007 when he joined Infinite Family and remembers meeting with his Video Mentor, Susan, in the crowded administrative office shared generously by our NGO partner for four long years before our first LaunchPad was built at the site. Just as he has grown, gaining skills and job experience along the way, you have kept Infinite Family strong, making it possible for him to return and motivate Net Buddies today.
Sakhi and Zweli's mother was a domestic worker who never had the opportunity to attend college or work at an international company. Her boys have both created opportunities for themselves to achieve these goals and many others. Both brothers are building careers in the international shipping industry. Sakhi started at UPS as a Billing Specialist and worked himself through several promotions to Customs Stops Specialist before continuing his rise at Fed Ex where he is currently a Clearance Team Leader. He completed a course in International Trade and Administration in Imports and Exports and is now studying Supply Chain Mangement, all while working full-time! Today, both brothers live in the suburbs outside of Alexandra in homes they built for themselves. In addition, the brothers are able to take advantage of all that Johannesburg has to offer behind the wheel of their own cars, which is one of the surest signs of success for young African professionals.
Despite his many achievements, Sakhi still seems a bit surprised by it all. He admits that when he first met Susan he didn't take school seriously – in fact, he had failed most of his subjects the year before. Basketball was his passion and he was good at it. Homework came last, after hoops and chores. Most nights, he never quite got that far. That is, until Susan encouraged him to focus on his future and develop a "Plan B" in case he was injured or basketball didn't work out the way he wanted.
He credits Susan with motivating him to prioritize books before sports and to apply himself while he still had time to improve his grades, "I took the advice and ran with it, I prioritized my school work and started seeing an improvement on my marks. Thank you to Susan." Later he added,  that without Susan, "I would not have been where I am. I would have stuck with my old mentality and probably have failed my grades."
Without question, Susan's influence had a permanent and sustainable impact. We are grateful to her and all of our Video Mentors for all they invest in our Net Buddies, and we are always grateful to YOU, our Infinite Family, for building and strengthening such a special place for them to work together.