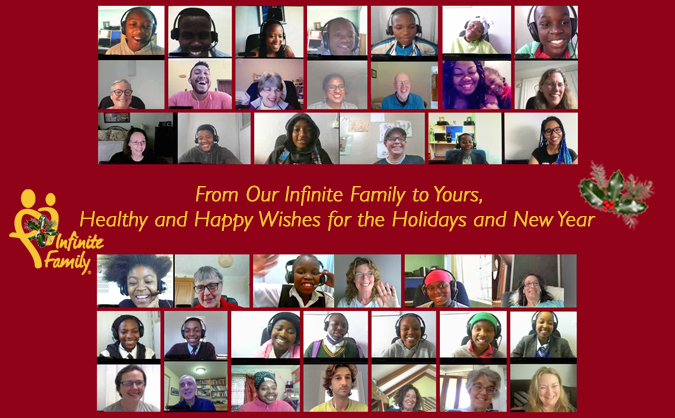 For the teens at Infinite Family, this Festive Season finishes the first full year of (almost) regular school days and after-school LaunchPad sessions in almost three years. Like everyone eager to connect again, our Net Buddies were very grateful to have their routines return to normal.
No one escaped the impact of COVID but for high schoolers in South Africa, the world was truly turned upside down. Months in lockdown severely interrupted their young lives and their education.  So, Net Buddies were super excited to get back to work in our LaunchPads – to be learning, stimulated and challenged again.
Before school closes for the holiday break, they want to let you know just how precious your support has been. Please click here to hear their messages.
As you can hear, your gifts to Infinite Family go way beyond the financial donations you so generously make.  It is your support of life-changing programming that inspires bright and determined teens to stay in school and claim the successful, independent futures they strive to build.
Thank you.  For enabling our Net Buddies to face their year-end exams equipped with new study skills and a resolve to work hard.
Thank you.  For supporting our Net Buddies as they finish 2022 stronger, more informed, and better prepared to defeat the unjust barriers that still make growing up in South Africa's townships so unimaginably hard and painful.
Thanks for you!  All of us at Infinite Family appreciate you more than you can know, and we dearly hope we can rely on your continued love and support in 2023 to help our Net Buddies keep building their way to brighter, better futures.