Buffalo Wisdom: Value Your Reputation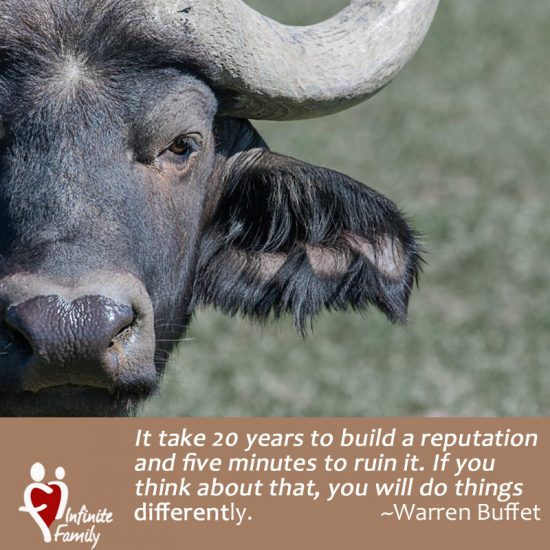 Buffalos are extremely large, ox-like animals and because of their power and disposition, are considered the most dangerous and feared game species in Africa. The horns are massive in males, broadening into a heavy shield across the forehead, known ironically as a boss. A nickname for them is the "Unstoppable One" – being a fearless and formidable fighter. It will always approach the source of the threat instead of waiting for the source to approach it.
Unfortunately many people in life also have a buffalo-reputation. "Attack first then listen" is their motto in life. They are proud to be known as the "Unstoppable Ones" and do not believe in the "live and let live" attitude. Many people in high positions use their status, situational, reputation, economic, social and physical power to stamp, like the buffalo, on anyone in their way to achieve their goals and objectives – right or wrong. Their followers, workers, subordinates, children and classmates fear them and try to keep out of their way as much as possible. The "buffalo-people" oftenforget that to manage by fear or to create fear is not an art. To live peacefully with others is!
Nobody ever raises their reputation by lowering others. Reputation is a fragile thing and has to be protected at all costs. People may forget what you said, but they will never forget how you made them feel. Examine your heart and motives to ensure that you are building a truthful and decent reputation.
Value your reputation, if you lose it, it is gone forever.
From African Wisdom by Dr. Lanette Hattingh
Dear Net Buddies,
Do you know anyone who is a "buffalo-person"?
How do they make you feel?
Do you like to be near them or do you avoid them?
How do you change your own actions when you are near them?
Four short sentences – share them with us and then look for your experiences on Infinite Family's website.
Read more about Dr. Lanette Hattingh 
Purchase African Wisdom here