Hippo Wisdom: Don't Forget Your Inner Strength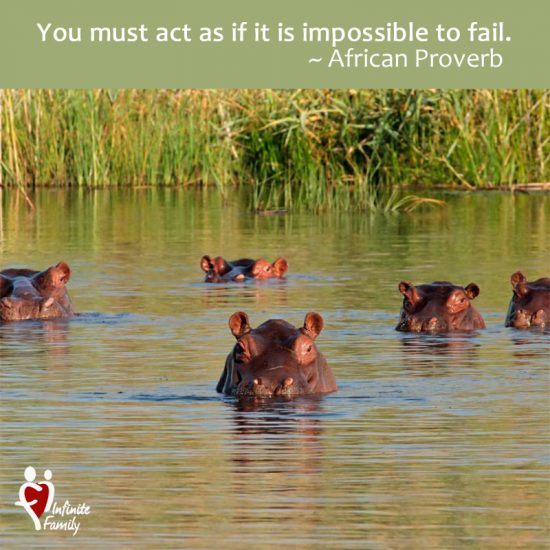 Hippos are some of the world's most aggressive animals. Being fearlessly protective of their young, hippos have killed hundreds of people in Africa. The hippo relies on size, weight and strength to make paths through the reeds in the riverbed.
Many people, like the hippo, try to muscle their way through life, counting on their size and physical strength and disregarding their inner strength, which is a far more powerful tool. You never know how strong you are inside until being strong is the only choice you have. The golden opportunity or the greener grass, which you seek lies within you, not around or outside of you. A wealth of hidden talent, ability, divine potential and strength lies within every person, just waiting to be recognised and realised. It's not just in some of us; it's in everyone.
Our thoughts, attitudes, beliefs, perceptions and mind-sets all work together to create our inner world. Look for your inner strengths: know that you have strength within you that you can always call upon whenever life appears bleak. At the centre of your being you have the answer to accomplish your dreams and cope effectively with life's challenges. Life is not something that happens to you, it is something you make happen.
May you find enough inner strength to determine your own worth by yourself.
Don't let the noise of others' opinions silence your own inner voice.
Whatever your actual age, there is something in you which will never grow old. Nelson Mandela
From African Wisdom by Dr. Lanette Hattingh
Dear Net Buddies,
What can we expect the results of acting like a hippo might be?
Can you remember a situation in which you acted like a hippo when another set of actions might have worked better?
What are the inner strengths that help you in times of crisis?
Do you see any similarities between the hippo and the lion we read about a few weeks ago?
You know what to do – make sure we get your answers to keep your performance track record strong.
Read more about Dr. Lanette Hattingh
Purchase African Wisdom here