From Net Buddy to Neurosurgery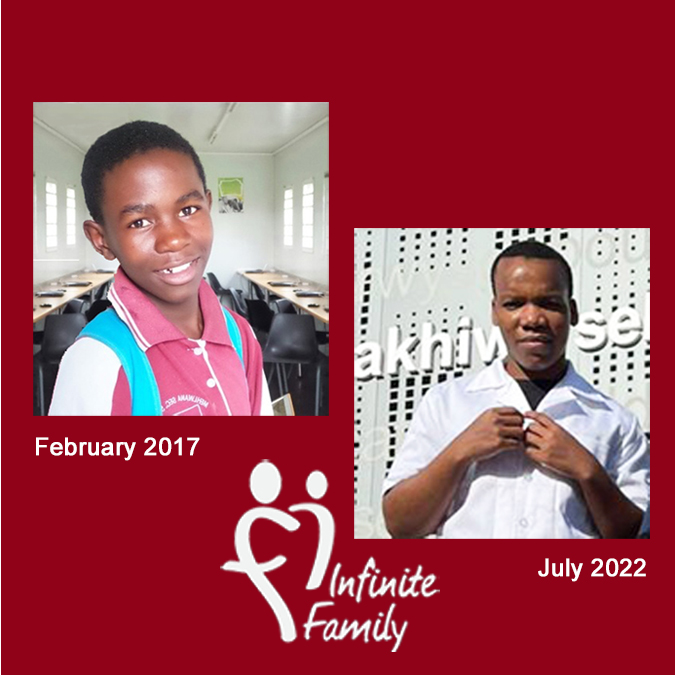 If you ever wonder whether the time and money you donate to Infinite Family makes a meaningful difference, we have a Thanksgiving gift for you: It DOES. It really, really does!
Every donation, big and small, gives the teens in our program a glimpse of the world beyond their borders … and lets them know they have a place in it.
Take Net Buddy Collen Mohlala (2016 – 18). It was time spent on the internet in the LaunchPad researching topics he heard about on Greys Anatomy that led him to study Sciences in high school.  And later, a video conversation with his Canadian Video Mentor, Nina, about surgery on her hand, stimulated him to pursue a career in Medicine.  After she explained it was due to a typing injury, he wondered how it was possible to get hurt using a keyboard. Ever curious, he did more research and learned about the world of neuropathology. Fast forward a few years – and now Collen is a third-year Med student, set on becoming a Neurosurgeon!
Like all the teens in our Infinite Family, Collen is keen to get ahead in life, and he's learned how to cope, despite life's many curved balls.  Yet, even the smartest, most curious and resilient teens need access to the world – and THAT is the gift you make possible.   
In South Africa, the school year starts in January and ends in December, which means the hard work is almost over for 2022. Before we gear up to do it all over again in 2023, we'd like to take a moment to honor all of you wonderful people who support Infinite Family's hard-working teens, in so many different ways.
To our donors, our Video Mentors, and all of you who volunteer your time and expertise to help our teens prepare for the work world, Thank YOU!  
You are the strength of our Infinite Family and we're grateful for every one of you.
Wishing you all a very happy Thanksgiving.